Rachel Kate B. Diaz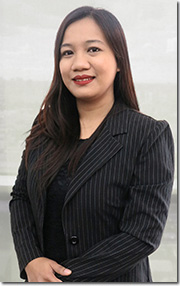 Ms. Rachel Kate B. Diaz belongs to the Firm's Special Projects and Business Support Services Department and handles various cases including land registration, civil, criminal, labor and administrative litigation.
Ms. Diaz received her Juris Doctor degree from the University of the Philippines in 2016. She was admitted to the Philippine Bar in 2017. She received her Bachelor of Science degree in Business Economics from the same university in 2007.
In law school, Ms. Diaz interned for the University of the Philippines Office of Legal Aid from 2014 to 2015. In 2014, she also worked as a research assistant for the Office of the Provincial Governor of Mountain Province. From January 2015 to December 2016, she worked as a legal consultant at the House of Representatives.
You may contact her at rbdiaz@cazlalaw.com.
Suite 2602, 26th Floor, The Atlanta Centre, No. 31 Annapolis Street, 1500 Greenhills, San Juan City, Philippines