Ms. Liza H. Abiera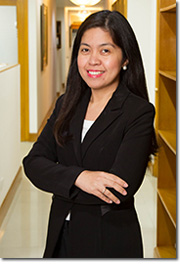 A licensed CPA-Lawyer, Ms. Liza H. Abiera heads the Firm's Special Projects and Business Support Services Department. She also practices in the areas of commercial and corporate law, taxation, government procurement, and land registration cases.
Ms. Abiera received her Bachelor of Laws degree from the University of the Philippines in 2003, graduating with a Dean's Medal for Academic Excellence. She received her Bachelor of Science degree in Accountancy from the University of San Carlos in Cebu City, graduating Magna Cum Laude in 1997. She was a recipient of the Punongbayan & Araullo Award for Academic Excellence. She passed the Certified Public Accountant Licensure Examinations in 1997 and was admitted to the Philippine Bar in 2004.
Before law school, Ms. Abiera worked with Sycip Gorres Velayo & Co. as Staff Auditor. From 2001 to 2003, she was a grantee of the SGV Foundation Inc. Scholarship during law school. Ms. Abiera has served as consultant to the Department of National Defense (DND), the National Transmission Corporation (TRANSCO), and National Mapping and Resource Information Authority (NAMRIA) on procurement matters. She has also served as Deputy Head of the DND Bids and Awards Committee Secretariat, where she gained extensive experience in the application of procurement laws, rules and regulations on the conduct of public procurement proceedings and the resolution of issues in relation thereto. Ms. Abiera also served as a consultant of the Manila International Airport Authority. Presently, Ms. Abiera is a consultant of the National Development Company on finance and taxation matters.
Ms. Abiera likewise conducts lectures on Government Procurement for the Mandatory Continuing Legal Education Compliance Program of the University of the Philippines Law Center.
You may contact her at lhabiera@cazlalaw.com.
Suite 2602, 26th Floor, The Atlanta Centre, No. 31 Annapolis Street, 1500 Greenhills, San Juan City, Philippines