Ms. Priscilla F. Zaballero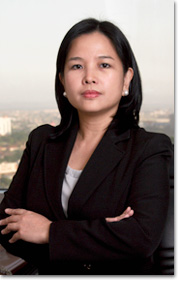 Ms. Priscilla F. Zaballero heads the Corporate and Commercial Law Department. Ms. Zaballero handles a broad range of transactional and corporate matters, with extensive background in mergers and acquisitions, taxation, government procurement, real estate and development projects, information technology and data privacy, government contracts, and securities. Ms. Zaballero likewise heads the Intellectual Property Department which handles trademark, patent, utility model, and industrial design applications, as well as licensing agreements.
Ms. Zaballero received her Bachelor of Laws degree from the University of the Philippines in 1994. She obtained her Bachelor of Science degree in Business Administration in 1990 from the same university. She was admitted to the Philippine Bar in 1995.
Ms. Zaballero is a member of several professional organizations, such as the Philippine Bar Association and the University of the Philippines Law Alumni Association.
Ms. Zaballero likewise sits in the Board of Directors of various Philippine and foreign-owned companies as Director and Corporate Secretary. She has rendered legal consultancy work for the National Transmission Corporation on procurement matters, and is currently a legal consultant to the National Mapping and Resource Information Authority.
You may contact her at priszaballero@cazlalaw.com.
Suite 2602, 26th Floor, The Atlanta Centre, No. 31 Annapolis Street, 1500 Greenhills, San Juan City, Philippines