Ms. Venus Amelie G. Mejia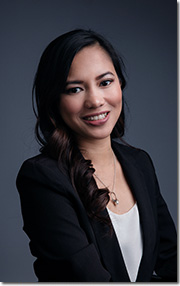 Venus Amelie G. Mejia is a Senior Associate of the Firm's Corporate Department, with comprehensive experience in corporate registrations, mergers and acquisitions, foreign investments, corporate restructurings, legal due diligence audits, and public bidding and government procurement.
Ms. Mejia received her Juris Doctor degree from the University of the Philippines College of Law in 2012 and became a member of the Philippine Bar in 2013. She obtained her Bachelor of Arts degree in Political Science and graduated magna cum laude from the same university in 2007.
From October 2009 to June 2012, Ms. Mejia worked as a Research Associate in the Institute of Government and Law Reforms of the University of the Philippines Law Center. She also worked as a part-time researcher with Health Justice in 2010.
You may contact her at vamejia@cazlalaw.com.
Suite 2602, 26th Floor, The Atlanta Centre, No. 31 Annapolis Street, 1500 Greenhills, San Juan City, Philippines