About the Firm
The Firm was founded in 1996. With its proven track record and expertise in its various areas of practice, the Firm has nurtured a growing list of clients which includes domestic and foreign corporations, local and regional businesses, government-owned and controlled corporations, cooperatives, professional associations, individuals and estates.
The Firm consists of lawyers who graduated from the University of the Philippines College of Law. The Firm is ably complemented by highly competent paralegal and support staff.
Teamwork, Knowledge
Client-focused, flexible and goals-oriented, the Firm's culture espouses a client relationship based on teamwork and continuous communication. The Firm's lawyers work in dynamic teams. This allows for an efficient transfer of information providing for a responsive and flexible solution to the legal needs of our clients. Mentoring of lawyers is a continuous exercise providing an environment of open communication and learning that allows the Firm to expand its knowledge base.
Efficient, Experienced, Proactive
All of the Firm's members, from the Partners to paralegal staff, are in the Firm because of their ability and willingness to deliver relevant, effective and professional solutions to the clients' legal needs.
Network
A firm believer in the global and multi-disciplinary approach of providing solutions to the client's legal needs, the Firm is an active member of MSI Global Alliance (MSI), a top ranked, international association of independent professional firms composed of lawyers, tax advisors, accountants, auditors and other related specialists, which allows the Firm ready access to professionals with expertise and knowledge of their respective local jurisdictions.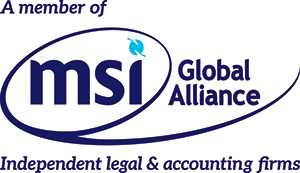 Suite 2602, 26th Floor, The Atlanta Centre, No. 31 Annapolis Street, 1500 Greenhills, San Juan City, Philippines