Mr. Othello C. Carag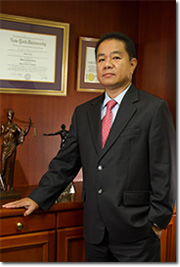 Mr. Othello C. Carag is the Firm's Managing Partner. As a licensed CPA-Lawyer, Mr. Carag specializes in taxation, corporate and commercial law. He has extensive practice in assisting both corporate and individual clients on matters involving income tax planning; capital gain tax planning for sale, transfer or exchange of shares of stock and real properties; estate planning and gifting strategies; tax planning related to mergers, acquisition and tax deferred re-organizations; and tax controversies. His practice also includes providing legal advice and representation to local and foreign clients on matters involving government procurement.
Mr. Carag received his Bachelor of Laws Degree in 1990 from the University of the Philippines where he graduated in the top nine of his class. He obtained his Bachelor of Arts degree in Political Science, Cum Laude, from the same university in 1984. While attending law school, Mr. Carag graduated Cum Laude with a Bachelor of Science degree in Business Administration, Major in Accounting from the Philippine School of Business Administration (PSBA) in 1987. He passed the Certified Public Accountant Licensure Examination in 1988 and was admitted to the Philippine Bar in 1991. Mr. Carag earned his Master of Laws in Taxation from New York University in 1999.
Mr. Carag served as the Assistant Secretary for Finance of the Department of National Defense from 2005 to 2006. Concurrently, he was appointed a member of the Department of National Defense Bids and Awards Committee and the Inter-Agency Technical Working Group of the Government Procurement Policy Board where he gained extensive experience in the interpretation and application of procurement laws, rules and regulations, as well as in the formulation of relevant guidelines consistent with the government's procurement policies under Republic Act 9184. Mr. Carag also served as the National Secretary of the Integrated Bar of the Philippines (IBP) from 2003 to 2004 and the Chairperson of the IBP's Committee on Tax Policy and Administration from 2001 to 2003. Mr. Carag also served as a tax consultant of the Cagayan Economic Zone Authority (CEZA).
For his public service and professional involvements, Mr. Carag received several citations, including the Outstanding Achievement Medal from the Department of National Defense; the Presidential Plaque of Merit from the Integrated Bar of the Philippines; and the Distinguished Achiever Award from the PSBA Alumni Association, Inc.
Mr. Carag taught Taxation subjects in the Juris Doctor (J.D.) program of the UP College of Law for ten (10) years, and is presently a lecturer on International Taxation in its Master of Laws (LL.M.) program.
You may contact him at occarag@cazlalaw.com.
Suite 2602, 26th Floor, The Atlanta Centre, No. 31 Annapolis Street, 1500 Greenhills, San Juan City, Philippines