Maria Margarita B. Aspi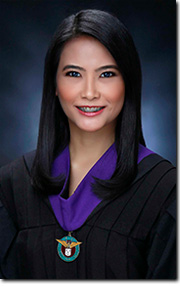 Ms. Maria Margarita B. Aspi is part of the Firm's Taxation Department. She handles various accounts including tax assessments, tax refunds, and tax planning.
Ms. Aspi received her Juris Doctor degree from the University of the Philippines in 2018, and was admitted to the Philippine Bar in 2019. She graduated cum laude with a Bachelor of Science in Business Administration and Accountancy in 2012 from the same university.
From January to September 2019, Ms. Aspi worked as an associate in another law firm. She also worked as a Legal Intern at the University of the Philippines Office of Legal Aid from August 2017 to May 2018, and a Summer Apprentice at a Makati-based law office from June to July 2016. Before law school, she worked as an associate at Sycip Gorres Velayo & Company from November 2012 to November 2013.
You may contact her at mbaspi@cazlalaw.com.
Suite 2602, 26th Floor, The Atlanta Centre, No. 31 Annapolis Street, 1500 Greenhills, San Juan City, Philippines