Mr. Jhimmy P. Santiago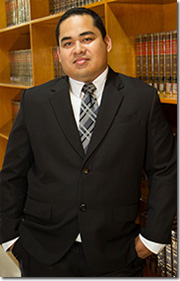 Jhimmy P. Santiago is a partner of the Litigation and Labor Department, and handles various cases involving, among others, civil and commercial law disputes, family law, criminal and labor law litigation, intracorporate disputes, intellectual property issues, and torts.
Mr. Santiago received his Bachelor of Laws degree from the University of the Philippines in 2006. He obtained his Bachelor of Arts degree in Management Economics in 2001 from the Ateneo de Manila University where he was a full scholar. He was admitted to the Philippine Bar in 2007.
From 2004 to June 2008, Mr. Santiago worked for Senator Miriam Defensor Santiago as part of her legal staff and later as Head of the Senator's bill drafting team. He was also granted scholarships by the UP Class of 1941, College of Law, University of the Philippines, and by the Ateneo Scholarship Fund at the Ateneo De Manila University.
You may contact him at jpsantiago@cazlalaw.com.
Suite 2602, 26th Floor, The Atlanta Centre, No. 31 Annapolis Street, 1500 Greenhills, San Juan City, Philippines