Ms. Ma. Carmencita C. Ambrocio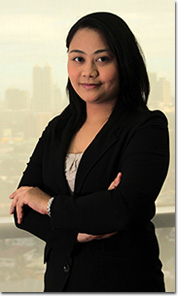 Ms. Ma. Carmencita C. Ambrocio is a Junior Partner of the Litigation and Labor Department and handles various cases including civil cases, criminal and labor law litigation, and administrative cases.
Ms. Ambrocio received her Juris Doctor degree from the University of the Philippines in 2012 where she was awarded the Distinguished Law Intern Award. She was admitted to the Philippine Bar in 2013. She graduated cum laude with a Bachelor of Arts degree in Psychology in 2008 from the same university.
Ms. Ambrocio is a member of the Pi Gamma Mu and Phi Kappa Phi Honor Societies.
You may contact her at ccambrocio@cazlalaw.com.
Suite 2602, 26th Floor, The Atlanta Centre, No. 31 Annapolis Street, 1500 Greenhills, San Juan City, Philippines