Ms. Anne Jaycelle C. Sacramento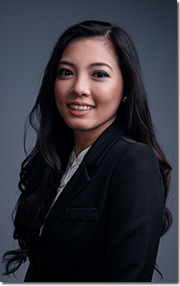 Ms. Anne Jaycelle C. Sacramento is a Senior Associate of the Firm's Corporate Department and handles various accounts including mergers and acquisitions, foreign investments, corporate restructurings, public bidding and government procurement, registration and maintenance of trademarks, and visa applications.
Ms. Sacramento received her Juris Doctor degree from the University of the Philippines College of Law in 2013 and became a member of the Philippine Bar in 2014. Ms. Sacramento obtained her Bachelor of Science degree in Business Administration and graduated cum laude from the same university in 2008.
Ms. Sacramento is a member of the Phi Kappa Phi Honor Society.
From September 2010 to September 2012, Ms. Sacramento worked as a Legal Researcher at the Office of the Assistant Secretary for Legal Affairs of the Department of Agrarian Reform. She also worked as a Research Associate in the Institute of Human Rights of the University of the Philippines Law Center from September 2011 to February 2012 and as a Project Consultant for the Asia Foundation and United States Agency for International Development (USAID) for the creation of an online legal library for human rights defenders in the Philippines, entitled humanwrongs.org, in 2011.
You may contact her at acsacramento@cazlalaw.com.
Suite 2602, 26th Floor, The Atlanta Centre, No. 31 Annapolis Street, 1500 Greenhills, San Juan City, Philippines